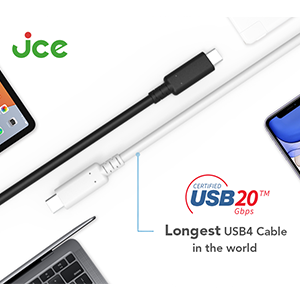 – JCE (Member of CTi Group) obtained the world first 2m USB4 Full-Featured USB-C Cable (USB4 Gen2) certification with GRL. The 2m USB4 Full-Featured USB-C Cable(USB4 Gen2) from JOHNSON COMPONENTS & EQUIPMENTS CO., LTD.(JCE, Yong Tai Electronic( Dong Guan) LTD.) passed "USB Type-C Connectors and Cable Assemblies Compliance Document Revision 2.0" in Dec. 2020 released by USB-IF. While JCE has obtained the TID4706 and is listed on USB-IF site's Integrator List, JCE is also the first official manufacturer to achieve 2m Full-Featured USB-C Cable(USB4 Gen2) certification in the world. This 2m cable is also currently the longest USB4 cable to be certified by USB-IF.

TID4706; Model Number: USB4CC-6830-2m

The certified 2m USB4 Full-Featured USB-C cable provides the bandwidth of 20Gbps, with power delivery of 5A/100V, supporting PD3.0 (Convenient Power). By using in-house designed USB-C plugs and being able to exceed standards to meet USB-IF's maximum recommended length, JCE has proved its leading status in the cable industry. During the early stages of USB4 development, JCE has also been proactive in technical discussions and showed aggressiveness in their product planning, making them capable to mass produce USB4 cables and ship them worldwide.

This validation test is carried out by Granite River Labs (GRL) Dongguan Lab. GRL is the worldwide leader in testing services, with professional teams providing their knowledge when changes in new regulations occur. Besides providing testing services, GRL is also capable of giving out advices to improve clients' products to help clients obtain certifications and a head start in their respective industries. Last but not least, GRL also supplies fully-automated high-speed cable testing machines to inspect production runs on assembly lines in order to ensure quality!
JOHNSON COMPONENTS & EQUIPMENTS CO., LTD.(JCE, Yong Tai Electronic( Dong Guan) LTD.) is a professional cable OEM/ODM solution provider established in Taiwan for over 50 years. JCE has been dedicated to the integrity of high-frequency and high-speed cable industry for many years. JCE provides customers with product design, development, and production solution by integrating outstanding tooling design, industrial automation, and procedure capability. JCE's main products include HDMI, USB, DP, networking cable, VR HD cable, automotive cable, industrial and medical cable, etc.