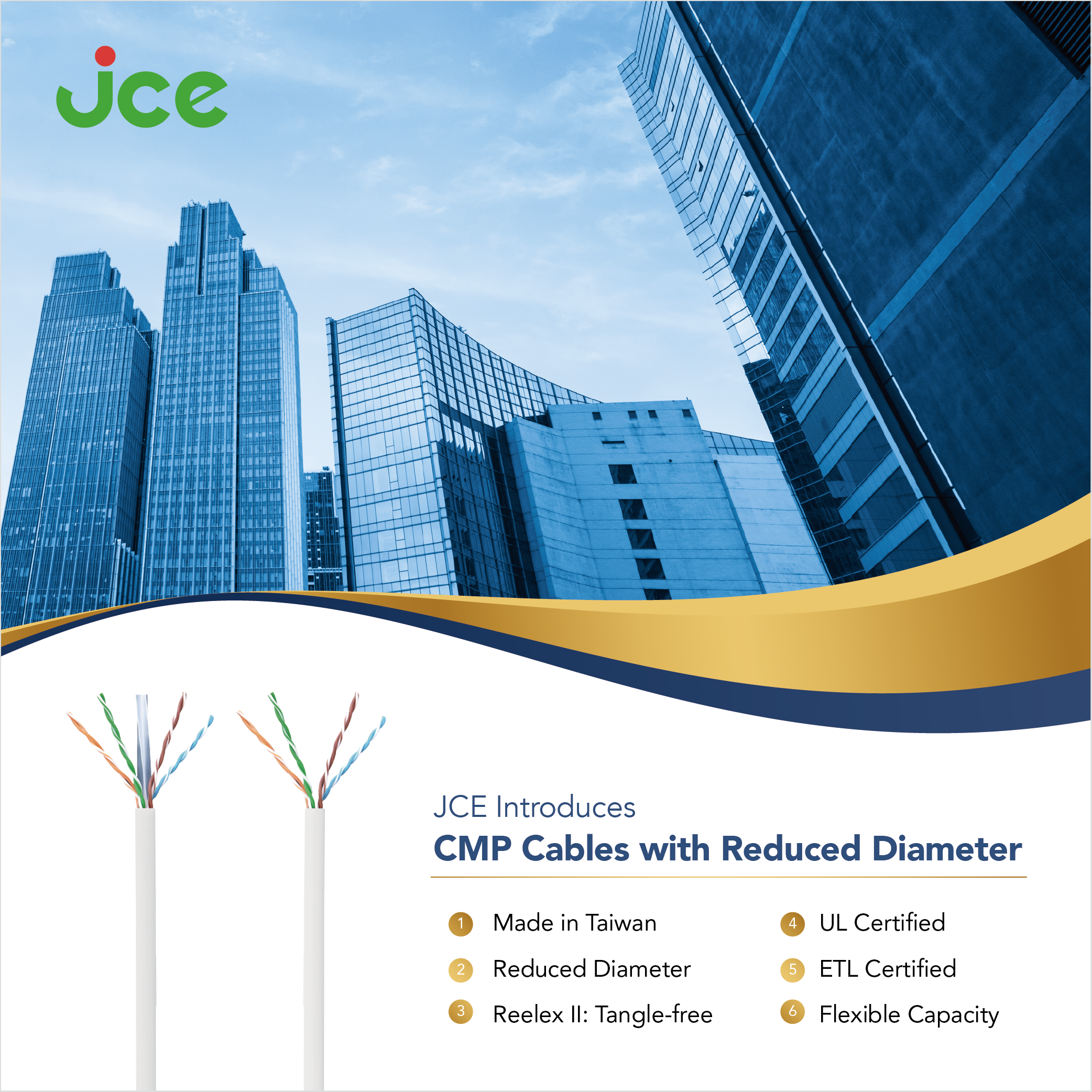 Struggling with long lead time on CMP cable production? Seeking for easier and more efficient CMP cable installation?
Your voice and concerns have been kept in mind by JCE, and now can be well satisfied with JCE's newly released UTP C5E and UTP C6 CMP cables. With brand-new CMP production line set-up at CTi group's Taiwan plant, CTi is capable of offering more flexible production time, approximately 4-6 weeks, which is much shorter than other manufacturers'.
What's more, JCE's CMP cable portfolio features smaller outer diameter. Take UTP C6 for instance, eliminating the cable cross-filler leads to a solution that is smaller, lighter and easier to install, as it reduces termination time and jobsite waste.Smaller OD design does not mean a compromise on the cable performance in term of data transmission and flammability. JCE's UL certified UTP C5E and UTP C6 CMP cables deliver exceptional Gigabit speed with performance verified beyond ANSI/TIA standards.
Apart from that, a variety of packages are available for these Plenum-rated cables, such as Reelex II carton featuring tangle-free technology. JCE is now still pushing its limits and anticipate to finalize development of UTP C6A & F/UTP C6A CMP in Q3 and Q4, in the hope of supplying wide range of CMP cable portfolio.

CTi Group is a professional cable OEM/ODM solution provider established in Taiwan for over 50 years. CTi Group has been dedicated to the integrity of high-frequency and high-speed cable industry for many years which provides customers with product design, development, and production solution by integrating outstanding tooling design, industrial automation, and procedure capability. CTi Group's main products include LAN Cable, LAN patch cord, HDMI, USB, DP, Industrial and Medical cable, etc.